Manindra Gupta
An introduction to the poetry of Manindra Gupta
October, 2008

Aryanil Mukherjee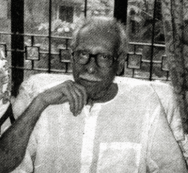 Manindra Gupta (b.1930) according to many, is perhaps the most important poet of his generation. His literary career spans more than half-a-century. He has authored more than two dozen books of poetry and prose. His collection of critical essays on poetry - Chaa`nder OpiTh (The Otherside of Moon) has won him many laurels. Several poets and filmmakers have been enthused by Gupta's bizzare autobiography Axay Maalberee (Ageless Mulberry) which is a path-breaking book in many ways. He is married to poet Debarati Mitra and lives in Kolkata.


Poems :

THE PHALLUS

Weak-muscled like a starving leech,
straight up like a broken bow,
I lift up my head sans eyes
to smell the faded air around –
the hushed smirk of the netherworld, sluggish shadows,
light from the dim stars – I am sentient to all.
Blind but astute like an archer taking aim –
all of a sudden the entire body kindles up in a
thousand-eyed smile
in the lonesomeness of a sad evening.

The strewn geographical borders and of history too
separating territorial domains of humanity, of time
the exhibition of strength have culminated
at a distance far away from me.
The dazzling presents the cloaks
of gods and anti gods, the beautiful and the ugly
all those golden, silvery, red wraps and brocade
lie in the darkness of the temple alter;
after the sacrifice of human races the well-shaped denture,
pallid pelvic bones of their women lie strewn all over the place –
the mice amuse themselves with the sham coral,
taking those in and out of their burrows: whose is it any way?
The educated flirting tongue trying to spit in a fit of fake rage
noticing in amazement a complete absence of an accomplice.
The bird sits like a compass on a post,
I consume it wholly.
The smashed crust of the universe, yellow yolk of egg
all get muddled up with the rotation, dried up and lay like a vast beach –
the creator, as if like a turtle, after routinely laying eggs
has once again submerged herself in the blue ocean.
I was at that time still in the key flaming star
with the pupa sun and future moon as witness.

I, the blind old hunter, sit in non-meditation than meditation;
on another plane of inattention, insanity
at the slightest sign
I open up the hole in the skull: cannibal's gullet.

SAGE

The sage sat on a stone beside the blue stream like a non-blinking chameleon
As I neared he startled and sprang up as if a snake
Didn't bite and smiled instead
Didn't pounce at me but leapt over the stones and across the blue stream
like a leopard
In a flash disappeared without a trace in the woods on the other side like air

Left behind our half uttered words, wonder and relations
necks kaput under the setting sun.


MY LAST BOOK OF POEMS

The first ten poems of this book
were published at the behest of Rabindranath Tagore in Sabuj Patro
Later those were reprinted in Prabashee in the "Touchtone" section.
It was at that time that Sahed Sadwarthi and Apurba Chanda
had discussed the poems with Sudhindranath Datta.

The next fifteen poems were first published in the last decade
in some little magazines in West Bengal.
But Annadashankar Roy informs, he had translated those fifteen
into Oriya in his youth.
A certain Dean of Punjab University has intimated that
those were translated and published much earlier in Gurmukhi by Bhai Vir Singh.
The night Ms. Aru Dutta
got the French translation of the poems
no flower in the gardens of Paris hardly slept a wink.

On the walls of the Church at Barok and on the plaque containing the
Hamburabi Code
the 26th poem of this book is scripted with an arrow-head.

If that be so when in history were these poems written ?
Perhaps on the hard shell of the mythological giant tortoise
the deep dark water of the ocean of universal cataclysm and
phosphorous and sand
at a very slow pace
is still busy scripting
the 68th poem -
the final poem of the book.

_______________________________________
Sabuj Patro – A book of poems by Rabindranath Tagore
Prabashee – A much honored early 20th century Bengali literary magazine
Sahed Sadwarthi , Apurba Chanda – Bengali literary scholars
Sudhindranath Datta – Important poet of the post-Tagorian modernist era. Editor of Parichay.
Annadashankar Ray – 20th century Bengali author/poet/scholar
Gurmukhi – A Punjabi dialect
Ms. Aru Dutta – Bengali poetess who lived in Paris and wrote in French


TWO THOUSAND YEARS AGO

My mind travels in opposite directions
as I perform her last rites.
Her long flowing dark hair and almond-coloured body
thrice bathed in perfumed water
and she is adorned in her favourite lilac-coloured silk.
All clean and embellished as if she is still alive.
If she was, could I be able to adorn her like that ?
That she is dead now, she demands all of my attention.
Did my hands feel so miserable ever when I had touched her in life!
As if her body is awash with ocean waves that rise from my hands!
Here lies she – a body she has left and what remains of it.

During the cremation rites her hair was combed but untied.
A sash was wrapped round her slender waist, over her dress, not tied.
The Veena that was put by her side was stringed but not tuned.
Her favourite lacquered boxes, bowls and cups were emptied.
A nice little palanquin that could carry her somehow also remained,
there were no bearers.

All these seemed to symbolise her whose beauty lay there, motionless, still.

Bedecked with ornaments as she was being lowered down in her grave
Heaven and Hades – two opposite currents
flowed in and carried her body away from my hands.


OCEANIC

This book on navigation has reached my hands after many changes.
Those who have browsed through the book have left their mysterious finger impressions on its pages;
stinking of tobacco with stains of opium, symbolic notes in the margins and
obscene comments – it seems as if they are still going through certain pages,
eyes open yet drowsy 'cause of inebriation.
Somebody had overturned an ink-bottle on a page –
partial reading is possible from under the bluish blur: man overboard!
Who's he who got drowned so sudden under the blackish blue water?

I open the book every night and doze over it. But still I can feel
the man's hand rises from the sea-water and turns over my pages.

Reclining on the table, the book suddenly exhales, a queer sound,
just like the sound of a ship's engine starting.
The luxury liner seems like a huge Roman palace slowly sinking
below the sea with a sleepless Caligula on its elaborate palatial deck.
The red and yellow glow of the morning sun vanished from sight within
the first fifty fathoms, and the green tint, too,
gradually deepened into a cavernous blue;
only a fading violet appeared to stir a bit
in the hundred and fifty fathom of deep dark ink.
And then there was darkness stark darkness.
Amid the panicky voice of Caligula and the barking of hunting dogs
shadow less creatures under water move about,
shifting in and out in sinister silence.


WATER

The two rivers Ganga and Pagla have drawn closer,
hissing face to face, about ten yards of land still separating them.
In one waft of a pair of hands the land would be torn off and
instantly wooden planks and broken bamboo poles would throw up
the newly learnt word 'infrastructure' which the minister and the
district magistrate had cautiously preserved through the four months
of summer and rain, and used it as an umbrella to save themselves
from getting drenched in the heavy rains.

Its equally perilous if two girls love or squabble with each other.
Bare bodied children are having trivial meal
under red blue green yellow polythene sheets.
The two girls came in running, giggling –
Come let's caress their cheeks and hug them –
the children enjoyed both - the food as well as the fondling
and got carried away.

Human forms with only a piece of cloth wrapped round the waist
are sitting like monkeys on the dyke.
The murky water below converting into surf.
The peasant workers have made their women folks get into
large basins made of burnt clay, and floated them
in the water like Mother Janaki with oars in hands;
in their perception the horizon is round, and so's the sky and the clay basin.
As they drift away the basins look smaller and further smaller.

The two sisters, sisters-in-law meet each other after a long time,
each helpless – floating in two different river currents.
They raise their arms and beckon each other –

In the sky evening sets in, death in the mill,
A flickering lamp glows like a timid star,
women float by in clay basins.


All poems translated from original Bengali by Subhashis Gangopadhyay
-----X-----