BISHNU DEY
An introduction to Bishnu Dey's poetry
Bimal Guha/Aryanil Mukherjee

Bishnu Dey (1909-1982) although essentially a poet, was a versatile litterateur who dug his quill into prose, poetry-essays, cinema and art criticism. He taught English literature at several colleges in Kolkata, namely Ripon College, the prestigious Presidency College (1944-1947), Maulana Azad College (1947-1969) and Krishnanagar College. In the 1920s & 30s, he was an ubiquitous member of a young group of poets, centered around the Kallol (Commotion) magazine. The Kallol group represented a new classicist literary movement that stood opposed to Tagorian aura mainly in its import of the western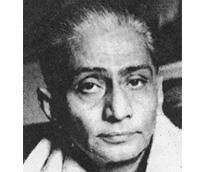 element of modernist doubt and conflict. He also co-edited the famous literary journal Parichay (Identity) with Sudhindranath Dutta. Later he also edited his own magazine Nirukta (Unspoken). Bishnu Dey was a keen student of classical western art, literature and culture and imbibed heavily from it.
Some of his noteworthy books include –
• Urvashi O Artemis (Urvashi and Artemis) - 1933
• Chorabali (Quicksand) – 1937
• Sat Bhai Champa (Champa and her siblings) – 1944
• Ruchi O Pragati (Taste and Progress) -1946
• Sahityer Bhabisyat (The Future of Literature) - 1952
• Nam Rekhechhi Komal Gandhar (I'll call you a Flat Note) -1953
• Rabindranath O Shilpa-Sahitye Adhunikatar Samasya (Rabindranath Tagore and the problems of Modern Art and Literature) -1966
• Michael, Rabindranath O Anyanya Yijnasa (Michael Madhusudan Dutt, Rabindranath tagore and other pursuits) -1967
• In the Sun and the Rain -1972
• Uttare Thako Mauna (Unresponsive) -1977
• Amar Hrdaye Bancho (Live in My Heart) -1981


Bishnu Dey was a difficult poet for the reader of his time. His poetry refers frequently to western classics (often art and music), attempts to marry eastern classical concepts with western, contrasting them at the same time. His poetry employed a rather sophisticated imagery that was rejected by some of his successors as "elitist". He was also inspired by Marxist philosophy. He is said to have drawn sumptuously from T.S.Eliot. Many scholars have argued that Dey was far too advanced of his age, a great intellectual who was far too well read and versatile. His knowledge of music and art, both modern and antique, western and eastern, was deep rooted. He probably found a much greater audience towards the end of his creative life and beyond. Today, he is considered one of the foremost Bengali poets in post-Tagorian era.

Bishnu Dey's fruitful collaboration with artist Jamini Roy led to his writing several books on art: Art of Jamini Roy (1988), The Paintings of Rabindranath Tagore (1958), India and Modern Art (1959), etc. He was also associated with Calcutta Group Centre, Soviet Friendship Association, Pragati Lekhak Shilpi Sangha, Indian People's Theatre Association (IPTA), etc.

Bishnu Dey was awarded the Sahitya Akademi Purashhkar (National Literature Academy Award -1966), the Nehru Smriti Purashhkar (Nehru Memorial Award -1967), and the Rastriya Jnanpith Award (1971). He also received the Soviet Land Award for Rushti Panchashati.
Poems :

Aspiration

Wipe out the sky tonight,
Smear darkness on the stars,
Blot out the moon in the slough of sleeplessness.
Cover your eyes and come
Through the web of the wind,
Drown the noise
Of the strides of the night-veiled sea
To take my breath away
At each of your soundless footfall.
In the quiet-quelled night
Let us meet mouth to mouth
Upon the summit of sleeplessness.
Shatter your world, scatter it in the sky,
And come to me in the dark.

Translated by the poet

The Alien

On either side the woods, in the middle the road
Gleamingly goes winding as nature beats the tune.
In the night-light, every now and then eyes glow,
young rabbits jump across dancing.
I have seen in the palasha bushes on rounded hillocks
Wild peacocks' Kathak in sudden joy,
By the shady tent on the golden sitar of the stream
I have counterpointed its grace.
They come in silence to the riverbank and lap their drink
I've heard the fawn-call of the Sindhumuni.
There goes the panther in greedy violent steps
Rousing the entire Kathakali temple of wild life
Where are the woods gone? Yet there are no settlements,
Only the bare plains, only the howl of the dry wind.
The jungles all cleared off, the villages dead, the critics
yet to be founded and the peacocks stuffed into commodities
Why in this land is man dumb and helpless?
Why are rivers, trees, hills so unimportant?
How long do we run about carrying our tents?
When does the alien set up his own home?

Translated by the poet

A Kafi

"Forests, trees, rocks and hills give me joy that my mind yearns for.
Each tree in the village speaks to me, it tells me, pure! complete!"
- Beethoven

My mind too, escapes in late spring
to the branches of mango and palash trees
and relaxes in contentment for a couple of hours
in the young green and middle-aged reds of fields,
after all, all men are debtors to the earth.

The afternoon, lost in a daydream
stares mutely in the distance,
it's in the past with no effort at all,
my distracted thoughts spin in the wind
and lose themselves in the call of doves
across deserted village rice-fields.

The evening, blushing with colours,
signs itself out on an exhilarating note,
in the deep tune of a song. Do you know that I yearn for that song
just like a parched chatak begs for water?


Translated by Damini Dey, the poet's grand-daughter Translator's Note – Kafi is an Indian musical mode (raag). Chatak is a bird that has a call that sounds like a cry for water in the summer. It is often identified with the parched earth in Indian summers.
More Poems Translated by Damini Dey

- from 'Smritti Shatta Bhabishyat' [Memory Consciousness and Future]

The sea swelled and roared
on that full-moon spring night.
That day Damini said, "My heart's
desire is not fulfilled."
She wanted to live again
at the edge of death and the full moon of life,
She searched again for the bottomless blue
of the moonlit sky
that day, by the ocean.

In everyday of my life you are almost
the full moon night at jhulan,
or a full moon night in the winter
or spring or summer or at rash or Kojagori,
even the shapeless new moon night is
an image of you.

My heart's desire is not fulfilled either,
I wish I could die in your ocean,
die, while living, after many long
undulated days and nights,
Damini, in your body that's
alight with the sea.


- Expatriate
- Porobashi, from 'Tumi shudhu panchishe baisakh'

There are forests on either side,
in the middle a glistening path twists and turns
dancing to the rhythm of nature.
From time to time eyes glow in the dark
and little rabbits dance and jump around.

Amidst the palash bushes on the round hillock
I have seen wild peacocks dance
in sudden delight.
In the shade of my tent the golden sitar sounds
from the stream match that grace.

Deer come cautiously to the edge of the river
to drink water at the call of the ancient hermit Sindhu.
A cheetah darts by with a greedy fierce leap,
awakening kathakali rhythms with its wild speed.

Where is that forest, there's no settlements either,
only endless plains, and the lament of dry air.
The forest is cleared, the village has died,
there's no signs of a city, and the
peacocks have been butchered and sold.

Why in this country are people silent and helpless?
Why are rivers trees and mountains so unimportant?
How long do I have to wander all over the country carrying my tent?
When will us expatriates build our own homeland?


I also
- - Amio To, from Smriti Shatta Bhabishyat

NOTES: albal - a ridge of earth raised around the root of a tree
for the purpose of watering.
ashar - the first month of monsoon.
Ashwin - the first month of autumn in the Bengali calendar year.

I also yearn for rain-clouds, not just with my eyes,
but with all my heart;
the lament of parched burnt earth brings to my nerves also
a feeling of deathly famine,
it introduces in me a thousand cracks like those
on a cobra,
the sun's malicious heat has cracked my albal too.
I have seen men gaze, the earth gaze uninterrupted
at that dusty vicious sky,
for even today this soil and the thousand-eyed sky
predominate life.
Day and night I also have wanted the flow
of rainwater.

So today I listen to this pleasant rain
that turns durba grass green,
I watch it, I breathe it in as it wets my skin,
inwardly I also work and plant this burnt field
that is my being,
I turn into trembling ears of grain.
In my nerves also today's ashar of the soil
convolves into a monsoon festival,
it floods my heart, it flows in spate;
I string these pearl-beads and let that beauty
fill my consciousness,
I put them around her neck whose arm
is around mine.

The darkness of my body is a cloudy song,
those intense rays a hymn to sunrise and sunsets.

My newly-sprouted poems also sway in that
satisfied breeze
like imminent Ashwin rice-flowers.


In my mind there's no tiredness at all
- - - Klanti nei, from Nam Rekechhi Komol Gandhar.

My dreams are also endless
in my mind there's no tiredness at all.
Yet the branches are full of a dry lament,
yet the fields are full of cold frost,
and there are endless tears in the sky.

My life waits eagerly,
is it a wait, or a mixed tune !
Ashes mix in the blue of my longing,
want and fulfilment mingle in that beggarliness,
the mind is accessible in the body,
in the fist the far.

I don't even want peace without you,
I want you - there is no end to that.
Krishnachura glows red, is it not
a lament too ?
It is the ache in my heart.
There is no peace for him who knows you,
never in his life, that diamond's.


On 14th August
- from 'Anishtya'
NOTES: matsyanaya - like fish in a pond.
Where the small and weak are at the
mercy of the big and powerful.

So, do my words keep returning to her ?
Across these plains of my body
her comings and goings never end,
my longing is like the hazy thirst of a
burnt summer day,
so what else can I possibly do ?

You don't know her, does that mean
I search for her in vain ?
Do you know the straight rays of that sun,
have you ever unwound your dreams
in moonlight, in the light from those
teary living eyes,
do you think this day and night does not exist
just because you don't know it ?

Is that sky just stored like your savings
in a corner of your room;
Extensive and unknown wilderness might
scare you,
but still is that lake just stuffed
with matsyanaya,
and she just worthless and insubstantial ??

So listen, I'll tell you about your way of life,
or maybe it's just your job,
why follow a crooked path in life,
lower that compound interest and spread
a little love all around,
why do your accounting books overshadow
your earth,
how long can you practise such falsehood ??

Does my conversation keep returning to her ?
Across the plains of my heart her comings
and goings never stop,
it is a palm-fringed lake or river, it
swells with waves
and calls to her, its blue waters tremble deep -
you don't know her yet ??
I'll make you know her.


Already a farewell song
- Ekhoni Bidaygan, from 'Tumi shudhu panchishe baisakh'

Already a farewell song ? Dear friend,
will you dry the stream,
and raise pale sandbars,
even before the full floods of monsoon ?
Will the current of hopes and questions
disappear into anaemic indifference,
leaving only memory as its silent and grey effect ??

Well this sadness suits you not. There is music
in your heart and senses,
it is your orchestra that plays in this world-wide gathering,
it lights a restless flame of joy in this festival of hope;
variations of pain, harmonies of death
are a part of this song of life -

Is it you who admits defeat! You,
intense, tireless and hard-working,
with a scientist's focussed passion,
a lover embracing the world -
is it you who sits without hope, silent and tired,
racked with hate and self-destructive indifference
at Koutilya's fake devious doctrines ??

Already a farewell song ? Dear friend,
turn your face, look, raise your eyes,
are there dead sandbars rising in the delta ?
Yet see the stream rush, compulsive, vocal and strong,
why do you forget the truth of that source -

That rushes fast and strong through stones in the mountain,
that flows radiant and wide through green sunlit plains,
the sun turning it to a colour of gold,
and it erodes land as it goes,
forever hearing, far-away but unmistakable,
the call of a blue blue sea.


Bad times
- Duhshamay, from 'Tumi shudhu panchishe baisakh'

He was walking behind me in the alley.
I see him again at the intersection
where four roads cross,
and plunge into a lane on my left.

Under criss-crossing lights and smoke
the more turns I take, the more I notice
the eager intent greed, like that of a fox,
in the lines of his moustache.

At the end of that lane I turn into
a street on my right, wide and spacious,
like turning from a canal into the Ganges,
I think, if we meet here maybe
there will be a confrontation.

But there is not. He keeps pausing
in the dark shadows under street-lights,
sometimes he lights a cigarette,
maybe he buttons his shirt,
he follows my shadow.
I don't know what claim he has on me.

I turn in fast through the west gate
past the posters by the cinema-hall
then through the tea-stall on my right
I walk through to the next street.

He will not leave me alone.
He doesn't stop to eat or drink,
just like me he feels no hunger or thirst.

As soon as I take the paved road along
the east, he follows behind,
like a shadow, but whose ?
Wearing rubber shoes
from far-away they fly toward me in groups
like groups of cobras - or they could be
just harmless grass snakes.

Straining my senses to listen and observe
at the edge of exhaustion,
finally I push in the open door
into the moment when I look into your eyes
and knit my fingers into yours.

The darkness of this morning eases and lightens,
grows in passion,
let the clock tick,
those who pace outside
and wait to pounce,
those who talk in the calendar

life will forget them;
on the wide sandy beach by the ocean
where all alleys end
that endless blue sea of time will
carry them away,
those wily bad times.

-----X-----