P O E M S   by   Malequl Hoque
<![if !vml]>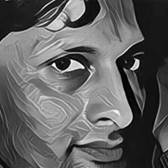 <![endif]>Malequl Hoque, a poet of spiritual and earthly blend, grew up in a  remote hamlet, Moinpur of Chattak, Sunamgonj, Bangladesh. Most of his poetic work is marked by a widening embrace of mystic energy; his lover Eve is ever present, his friends are never 'no more'; his refined poems blend time with space in a magnetism of its own.  Hoque edits Gondhom (The forbidden fruit). He is the author of - Samudragonika O HawarBanshi (2008), Binoyguccho (2008), Dibbunmad Ayna (2017), and Tosbi O Roktobindu (2017), Divine Cross Beneath The Gloomy Evening (2015), Echo The Pillars Of Nothingness (2015).
Cluster of Sound-flower
1
Presence or
Existence is the cause
Of all transitions
2
Suddenly it seems
A familiar illusion
Flowing on the light
3
Love is internal
It brings out everything
And displays trees alone
4
Inward love
Blooms outside pain
Befalls inside the heart
5
The desire to touch
Flowers collect sorrow
For the heart
6
A sun hides its face
Behind the mist
Again and again
7
The fall of letters
Bring solitude to
The human heart
8
The flowers in the garden
Fall out of innocence
Bloom in innocence too
9
The lost flower
Blooms on the walls
Of existence
10
The heart is green grass
Valuable to grasshoppers
Void in wonderment
11
Sorrows are black stones
Turtle lamp
Glows on the water
12
Scary flies
Outnumbered us and settled
In a split moment
13
The smiles of mist
Is echoed upon
The harvest
14
I am alone on this side
My shadow cries
On the other
15
This body is a mere harvest
Tingled by the swaying
Wind
16
Memories are life
Self-demise
Is what occurs within neurons?
17
Sorrows are a myth
The listener holds
Equal share of the burden
18
Fruitless peeping
Into fruit-grounds
Casts monsoon in spring
Copyright © 2020                       Malequl Hoque                       Published 1st Apr, 2020.
<![if !vml]>

<![endif]>
<![if !vml]>

<![endif]>